Brake Services Naperville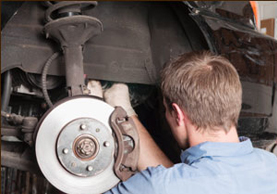 Regular brake service and maintenance are crucial in ensuring that your brake system functions optimally. This is not only important for your own safety but the safety of other people too. We at Nelson Auto Repair offer comprehensive brake inspection, brake repair, brake pad replacement and maintenance services.
While we provide excellent replacement and repair solutions, the recommendation is that you get preventive maintenance done. Not only will this save you a significant amount of trouble and time in getting your brakes repaired, but will save you money as well.
What's Included In Brake Services?
When you come to us for regular brake service our team of experienced technicians will carry out a detailed inspection of every component of the system. Brake problems may not be evident to you as they can start out small. However, when you bring your vehicle in for a brake inspection, our team would be able to quickly identify even the smallest of problems in the brakes.
They will inspect all the major components of the system such as the brake lines, brake pads, brake shoes, and brake discs. Once the inspection has been completed, the technicians will make suggestions based on their findings and your car manufacturer's recommendations. If any of the components show excessive signs of wear or damage, you will be informed about it.
Signs you need brake services
#1 – It's been over a year or 12,000 miles since the last time your brakes were inspected
#2 – You're near or past the number of miles your vehicle's manufacturer recommends between brake fluid exchanges
#3 – The brake warning light on your dashboard comes on and stays on
#4 – You hear grinding or squealing when you apply the brakes
#5 – Your vehicle pulls to one side when you apply the brakes
#6 – Your vehicle requires longer distances to stop than it used to
#7 – The brake pedal responds slowly and feels "spongy"
#8 – The brake pedal goes to the floor and/or requires excess pressure
Top Quality Brake Inspections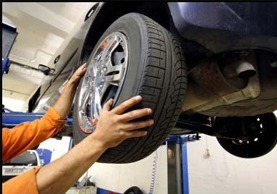 These types of regular inspections help us identify potential problems before they get out of hand and we can provide suitable solutions. We are very honest and sincere or in our approach. Our team will never recommend repairs or replacements unless they are the only option. We focus on providing top quality brake services and use genuine spares in our work. This helps increase the safety and lifespan of the brake system.
If you want to know more about our brake services, don't hesitate to get in touch with Nelson Auto Repair at 630 355 4456 or contact us.